The evolution of fetal imaging
The fetus is a special patient – it cannot be physically examined or questioned – so Fondation Lumière believes it's critical to continue developing better imaging. The world has come a long way already, moving away from x-ray to ultrasound.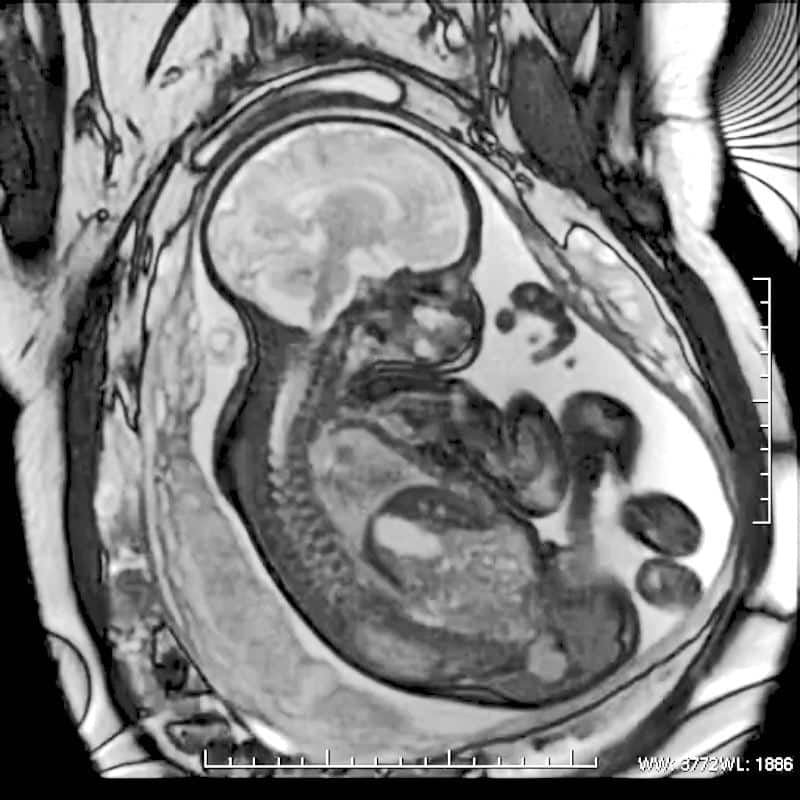 Ultrasounds use high-frequency sound waves to confirm anatomical information about the fetus. It allows us to see, for example, that the brain has two hemispheres, the body has 4 limbs, and where the placenta is located.
Fondation Lumière develops new magnetic resonance imaging (MRI) technology that goes further than the absence or presence of vital organs, to how they function. Does the brain have the necessary connections and activity, does the placenta function normally, does it feed and oxygenate the fetus as it should in order to allow for normal growth?
This level of information provides new hope for better treatment of babies with pathologies while in utero as well as preparation for their birth. It also compliments the three-pronged research focus of Fondation Lumière.
More Research of fetal growth
The phenomenon of embryonic or fetal growth is incredibly dynamic and not yet well understood. While the size of the embryo and fetus are monitored and measured, we do not have the right tools yet to thoroughly monitor the placenta.
With a functional MRI, like the one developed by Fondation Lumière, the placenta can more effectively be studied and new tools developed that will better detect intrauterine growth retardation (IUGR) – a pathology affecting up to 10% of pregnant women and presenting grave morbidity and mortality risks for both the fetus and mother
Research of fetal malformations
To improve the diagnosis and evaluation of fetal diseases and malformations, Fondation Lumière focuses its research programs on cardiological, cerebral, digestive, and renal malformations. New imaging approaches in development will better characterize these malformations in order to give more precise diagnoses and treatment plans.
Research of utero therapeutics
As of today, we are only beginning to know how to intervene in utero on certain malformations in order to limit their consequences and improve the postnatal prognosis. Right now, medical and surgical therapies are being developed for use in utero as an intervention method for the placenta or fetus. Because surgery on a fetus is delicate and meticulous, working on advanced imaging is essential to prepare the surgery team for what they will encounter during the procedure.
Impact in France – and the world.
While Fondation Lumière is located in the heart of France, its potential impact is global. Fondation Lumière is innovating to enable the best possible outcomes for fetal health worldwide.
By giving to Friends of Fondation de France, Americans like you can support Fondation Lumière's life-saving work. Together, we can create a more hopeful future for the next generation.