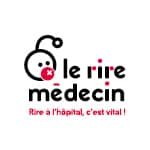 Le Rire Médecin and its 120 professional artist-clowns creates individualised shows for hospitalized children and their families hand in hand with the health care teams: so that they can see that humor, imagination and fantasy are strong remedies to help fight illness, anxiety and even pain.
USA contributions will fund the props, the training and the performances of these specially trained clown-actors, so that they can:
– Help the children's stay in the hospital become more bearable and help their parents see that their child can still play and smile.
– Support the hospital staff with moments of joy and relaxation, and accompany invasive and painful medical procedures to children when needed.
– Plus, perform for children 'hospitalized at home' and support the whole family, especially for palliative care.
– Interact with abused children coming to hospitals, to facilitate their interactions with healthcare professionals and police.
– Help fragile mothers and their newborns create attachment, when needed through music and light comedy.
(c) Adrien Daste, Sylvie Biscioni et Géraldine Aresteanu