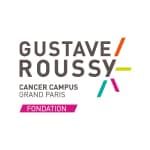 Fondation Gustave Roussy is a French State-approved foundation. Its main mission is to develop and promote cancer research, while keeping at the heart of its operations the objective of improving the care and quality of life of patients, in accordance with the strategy of the Gustave Roussy Institute.
Fondation Gustave Roussy aims at:
– Promoting the development of a centre of medical and scientific excellence dedicated to the fight against cancer;
– Conducting, supporting and carrying out research programs that contribute to a better understanding of carcinogenesis, a better assessment of cancer treatments, the development of methods for prevention, screening and early diagnosis and, generally speaking, to the assessment of the impact of cancer on patients and society;
– Encouraging the transfer of diagnostic and therapeutic innovations to patients, and assessing their effectiveness;
– Enabling the sharing of the findings of its research programs through training and by circulating information to the public and to healthcare professionals.
In addition to its main research activity, the Foundation also supports any initiatives aimed at improving the quality of patient care.
Projects that US Donors can Support 
With their contributions, US donors can support scientific research projects to cure cancer for patients of all ages.