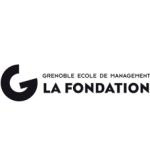 Mission and Vision
Through its public-interest mission, Fondation Grenoble Ecole de Management, school for business and for society -also known as Fondation GEM or the GEM Foundation- reinforces Grenoble Ecole de Management's commitment to societal impact.
The Foundation provides companies and individuals with an opportunity to make a tangible contribution to issues that have a broad impact on society, such as digital transformation, healthcare, energy, ecological and social transitions, women's entrepreneurship, and diversity and inclusion in business.
Actions Led
Thanks to the generosity and commitment of its donors and sponsors, including alumni and companies, the GEM Foundation supports the most disadvantaged students through grants and scholarships. This includes emergency aid, "helping hand" grants, and social and excellence scholarships.
Additionally, the Foundation fosters research projects with significant societal impact by funding research and teaching chairs.
Projects that US Donors Can Support :
– Support for students (via the financing of a scholarship program, an emergency solidarity fund and initiatives favoring equal opportunities).
– Research projects and grants to researchers