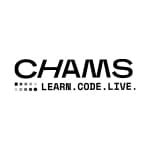 Mission & Vision
CHAMS is a startup NGO aimed at bringing tech education and employment to refugee hosting zones. Integrating Tech in Education, Employment and Entrepreneurship is CHAMS' ambition to create bridges for refugees toward integration and citizenship. After opening its first school in Jordan in 2019, its ambition is to train 10,000 students by 2030 to foster creative communities in other refugee-hosting countries as well.
Actions Led
Since 2018, CHAMS has built and operated coding schools and entrepreneurship boot camps within or near refugee camps. 
Between 2019 and 2022, CHAMS launched six coding boot camps (partnering with Amazon Web Services, re/Start program in the United States) with more than 150 students trained. CHAMS elongated the course to allow more time for refugees to adjust to the program. CHAMS also increased the course time to incorporate soft skills techniques and English language classes, essential to land an international or local job.
In 2023, CHAMS will be scaling its operations and launching a disruptive coding school: 42 Amman School. It is based on the prestigious 42 Paris schools (https://42.fr/en/homepage/).  A cohort of 150 students will begin in December 2023.
Projects that US Donors Can Support
US donors can support the implementation and operation of a new IT and coding training in 24 schools in Amman, Jordan, aimed at refugees and underprivileged communities.
Learn more through our blog article published on February 24th, 2022.